In late 1987, singer/songwriters Jim Whitford (gtrs) and Don Vincent (gtrs), teamed up with rhythm section Jim Celeste (drms) and Tom Fischer (bass) to form the Pine Dogs. And in mid 1988 vocalist Gretchen Schulz joined the band. By 1989 the legendary basement tape, Jane...Stop This Crazy Thing! was released. As 1990 began, a new cassingle Give It Back/Do You Really Mean It, produced by E. Michael Brydalski, was released. The B-side included a guest appearance by Gurf Morlix, producer and guitar player for Lucinda Williams. It was this session that spawned the idea for a full length CD with Morlix producing and Brydalski assisting.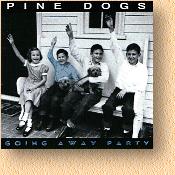 1992 yielded the Pine Dogs third release and debut CD Going Away Party. The album was recorded and mixed in 3 weeks and contained some new material and the best of their earlier songs. Going Away Party charted on college radio staions across the country an has made its way from New Zealand to Sweden. Through 1993 and 1994 the Pine Dogs toured the region supporting Going Away Party and touched down in clubs all over New York, Pennsylvania, Ohio, and Ontario Canada.

 In January 1995, guitarist Don Vincent announced his departure from the band. The remaining members completed the album Mighty Engines of Love which was released in October 1995.

 Over the years the band has enjoyed sharing the stage with the likes of the 10,000 Maniacs, Jeff Healy, Lucinda Williams, Peter Case and Crash Test Dummies.

 The five original Pine Dogs have performed together at a number of special events and benefits in recent years, to enthusiastic response from fans old and new. Their rare live shows are not to be missed!







Some honors bestowed upon the band include:
Best New Band - WBNY Buffalo,NY 1989
Best Female Vocalist - Buffalo Music Awards 1989, 1990, 1992
Best Local Album - Buffalo News 1992
Outstanding Vocalist - ARTVOICE Buffalo, NY 1993
Outstanding Band - ARTVOICE Buffalo, NY 1994






Date
Location
Phone
Notes
5 Dec 96
Buffalo, NY
Breckenridge Brewery
716-856-2739
8:00 pm
6 Dec 96
St. Bonaventure, NY
The Rathskeller
716-375-2348
13 Dec 96
Cleveland, OH
Barking Spider
216-421-2863
Acoustic Set
28 Dec 96
Buffalo, NY
Nietzsche's
716-886-8539
Special Guests: The Jazzabels

We'd like you to take a minute and find out about The Jazzabels, a fine combo that opens for the Pine Dogs occasionally.

Because the Pine Dogs would like to keep you up to date with the latest news, we've started an electronic newsletter. Every so often, we publish the Dogmail Digest. Why not join the thousands of like-minded Pine Dogs' fans who have subscribed. Click this link to subscribe today!

Here are some previous issues:






For great corn chili, mix 1 16 oz. can each black beans, white beans, pinto beans, kidney beans, pink beans, kernal corn, medium size tomato paste and large tomato sauce in a big pot.

In a frying pan, brown up 2 medium onions, chopped coarsely, 4 to 5 cloves of garlic, chopped finely, and 2 or 3 minced jalapeno peppers.

Add this to the beans along with 5 heaping teaspoons of good chili powder, 1 teaspoon cumin, 1 teaspoon each of cayenne (red) pepper, salt and black pepper.

Cook slowly at least two hours or all day if possible. Add water as necessary.
Gretchen Schulz has the talent to make it big, but will she get the breaks?
Star Quality

---
By Anthony Violanti, © 1996, Buffalo News

She's 32, with a couple of kids and a husband at home. It's a time of life when personal and professional paths are well-defined and just about set.

For Gretchen Schulz, however, this the crossroads. She's blessed and cursed with being one of the best singers in Buffalo. Schulz is nearing that now-or-never show business midcareer crisis, when it's time to make the next step up or remain forever a local act. The fate of Gretchen Schulz's career involves more than talent, which she has in abundance, but also breaks, timing and luck.
That's usually the difference between playing local clubs and making a national impact. And the question haunts Gretchen Schulz: Is she ready to make the jump into the big time? "I try not to think much about it, because I don't want to get ahead of myself," said Schulz, lead singer for the Pine Dogs. "Any interest in me is very exciting, whether it's in Buffalo or anywhere else. I don't know what big time means. If it means being paid enough to do this full time and earn a living, yeah, I want that. But I'm not in this to be somebody's image of a star. Having a family and singing are the two most important things in my life, and I just feel lucky that I can do both"
THE MOMENT AND PERFORMANCE WERE transcendent. It was April, and Gretchen Schulz was one of about 20 singing acts on the Nick Veltri/Doug Morgano Rhythm and Blues Revue at the Marquee at the Tralf.
Most of the performers were older than Schulz, and so was the audience. Many in the packed club had never heard of Schulz or the Pine Dogs, one of Buffalo's most talented original bands.
That night, the Tralf was filled with R&B music from the 60's and '70's, a time when Schulz was just a child. She came out in the first hour of the program, casually dressed in a printed short-sleeve blouse, beige pants and Western boots. Schulz has a dynamic stage presence, accented by her flowing, ash-blond hair and passion for singing.
At the Tralf, initially, the audience hardly seemed to pay attention to her. People were chattering away, and sound of clanking glasses and idle conversation filled the air, as Schulz grabbed a microphone, with her head down, and then began to sing the Patsy Cline country classic "Sweet Dreams."
Almost at the first note, the audience noise and conversation stopped as the people focused their attention on the stage. This was turning into Gretchen Schulz's moment of glory
I watched her that night from a table about 20 feet away from the stage, and it was one of the most exhilarating performances I have witnessed as a music critic. Schulz gave the country standard a soulful interpretation, and made the song her own. During the performance she was vulnerable, tender, sexy and tough.
The audience kept breaking into the song to cheer and applaud as Schulz sang. Adrenaline was flowing within the singer, and with each note she seemed to gain more power.
"It was a magical moment for me, the band, the backup singers, the audience - everybody there," Schulz said. I didn't want to be flashy. I was dressed down, because what was important was the song. I was comfortable; I looked like me and was able to do what I love doing: singing and performing. "That was an incredible night and such a high~energy moment. I'll never forget it. I remember at one point, when Doug Morgano was playing his guitar solo at the end of the song, I stuck my head behind the backstage curtains and just screamed. It was an explosion of joy. I just had to get it out. I loved it."
Gretchen Schulz is totally immersed in music, which, along with her family, is the passion of her life. "She's a wonderful singer and songwriter," said Mike Meldrum, the Buffalo folk singer who was' instrumental in the development of such performers as Ani DiFranco and Natalie Merchant. "I think if Gretchen wants to make it beyond Buffalo, she's got all the power, talent and authenticity an artist needs."
Tom Fenton, another veteran performer who often performs acoustic shows with Schulz, agreed. "She may be the best singer I've ever worked with. She uses her voice as an instrument and has great stage presence and musical sensibility.
"Gretchen is capable of performing all kinds of music - jazz, country, R & B, rock and pop. Music just seems to be a part of her being."
It was always that way for Schulz and her three brothers and sisters. Her father, the late Robert F. Schulz, was a nationally known pianist who during his career accompanied such artists as Frank Sinatra and Lena Horne.
Robert Schulz was committed to Buffalo and was a founder of the Buffalo Choral Arts Society during the early 1960s. "His life was dedicated to music, and everything I do in music reflects his influence," Gretchen Schulz said.
The band is known for its eclectic sound, ranging from alternative to roots rock influences. In 1992, the Pine Dogs album Going Away Party was named Local Record of the Year by The Buffalo News.
The Pine Dogs, featuring Schulz along with Jim Whitford, Tom Fischer and Jim Celeste, showed its maturity this year with the release of another CD, "Mighty Engines of Love." Once again, it earned rave reviews. Schulz displayed her range and emotion on a bittersweet ballad, "Marlboro Man," a song she wrote about an advertising billboard on the Kensington Expressway.
The tune had a country feeling, as Schulz sang, "A man like that ain't hard to find for a city woman like me/I just look above the billboard of love, heading west on. 33/And though our lips have never met, he 5 mine vicariously/Every time I smoke a cigarette, he's making love to me.
Schulz is the center of the Pine Dogs, but. disdains the limelight. "The reason I like being in a band is because of teamwork. I don't like being a solo, featured performer. The' Pine Dogs is not about one person or one thing; we're a band."
Schulz is an equal partner in the group.
"She does everything we do, from hauling equipment to help setting it up," said Tom Fischer of the Pine Dogs. "I hate to gush about her, but she even cleans the ashtrays.
"Gretchen is very easy to get along with and very straight. When it comes to playing music, she doesn't kid around.
Fischer, like the rest of the band, is aware of Schulz's talent. "We all know she could sing with anybody or on her own, and it's great she's with the Pine Dogs. Gretchen is a special person and performer, and something remarkable happens when she steps on stage.
Away from the stage, home is Gretchen Schulz's life. She lives in Buffalo with her two children, Colin, 5, and Elsa, 3, and her husband, Mike Brydalski, who works as a sound engineer.
It takes teamwork for Brydalski and Schulz to juggle careers and raise children. "We've done all right so far," Brydalski said with a laugh. "I'm just a working parent like everybody else," Schulz said.
Professionally, things may change. Doug Morgano was so impressed by Schulz's performance at the Tralf, he and Nick Veltri took a tape of it to Nashville and presented it to record company officials.
Nothing has happened yet, and it may never happen, but Schulz's performance made an impression. "She has a unique quality, a combination of incredible vocal ability with a commanding stage presence," Morgano said. "I absolutely believe Gretchen has the ability to make the next step in this business and get beyond Buffalo."
No one knows if that will happen, but Gretchen Schulz has something just as important: contentment with her life. "I feel very lucky to be with Mioke and the kids," she said, "and to keep singing."






REVISED: Saturday, 10-Nov-2012 17:05:58 EST
---