Mighty Engines of Love
A review by Dale Anderson
 They say every dog has its day. For the Pine Dogs, that day is long overdue.

 By rights, it should have come two or three years ago, around the time they put out their first album, Going Away Party. There they defined themselves as a rock band with wit, wisdom, some hot guitars and a first-rate vocalist in the person of Gretchen Schulz.

 The intervening days and months have seen the Pine Dogs shrink from a quintet to aquartet with the departure of Don Vincent,who did a bit of everything -- singing, guitar-playing, songwriting. But it hasn't diminished them a bit, judging from their new album, Mighty Engines of Love, which gets its formal introduction to the public Saturday,Oct. 14, at Nietzsche's, 248 Allen St.

 Like its predecessor, Mighty Engines of Love draws from the band's several songwriting talents.Bassist Tom Fischer, for instance, contributes a charming story-song, "Bad Penny," in which a child given up for adoption is reclaimed when its natural parents have a change of heart.
As for the rest of the writing. it's split between Schulz and guitarist Jim Whitford, with eight of the 12 tracks authored by Whitford. His emphatic opening track, "Everybody Looks So Down," a perfect rallying song for resisting the slide into winter, is absolutely rebellious in its determination to rage against the dying of delight. "I'm gonna go out tonight," Schulz and Whitford sing in harmony, see if I can't cheer up the world."
 Whitford often uses his songs to joust with his personal demons. "Murky" looks out from loneliness and vows to escape. "Stop & Start Over" resolves to open a stubbornly closed heart.Sometimes he's victorious, like in "Ton of Bricks," where joy is incipient ("Baby, you're a poem waiting to happen") and everything is wrapped up in yearning.
 Schulz's songs. with their gentleness, their sense of reassurance and their change of pace, provide just the right counterpoint to Whitford.
 Her first entry Marlboro Man, is a whimsical interlude that's pure fantasy with a nicotine kick."Every time I smoke a cigarette," she concludes,"he's making love to me." A subsequent number,the parental pledge in waltz-time "I Promise," revisits a country music verity ("Three things you can count on/Your fingers, your daddy and me").
 Whitford builds a few changes of his own into the set. The born-under-a-bad-sign strains of "Good Luck, Money & Gasoline," abetted by Joe Mancuso on harmonica, puts hard-driving blues into a song about the liberating effects of lonely country roads. Then there's "Been on a Twister,"an invigorating instrumental excursion into the reverberating world of surf-rock
 It's the blues and Whitford's blues-based guitar figures that give Mighty' Engines of Love a force and a focus above and beyond the previous Pine Dogs' release. There are glorious guitar passages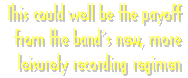 all over the album -- "Stop & Start Over" shimmers with lingering chords and finishes with a haunting minute-long solo, "Naked Truth" pulses with twangy Duane Eddy muscle, and "Inspire Me" builds on piston-driven power chords. This could well be the payoff from the band's new,more leisurely recording regimen -- going into the studio after laying down some of the tracks at home.
 A stronger sense of the blues also plays better into the Pine Dogs' greatest strength. Schulz's stunning alto. On low flame, she's as dusky and intimate as Fleetwood Mac's Christine McVie. But McVie never breaks into a boil. Let Schulz turn up the heat, like she does in "Inspire Me." and the crockery starts shaking. Happily, she gets plenty ofopportunities to raise the temperature all the way through.
REVISED: Wednesday, 07-Sep-2016 12:50:56 EDT

Email your comments about this website to: webspinner@spinning.com