In late 1987, singer/songwriters Jim Whitford (gtrs) and Don Vincent (gtrs), teamed up with rhythm section Jim Celeste (drms) and Tom Fischer (bass) to form the Pine Dogs. And in mid 1988 vocalist Gretchen Schulz joined the band. By 1989 the legendary basement tape,
Jane...Stop This Crazy Thing!
was released. As 1990 began, a new cassingle
Give It Back/Do You Really Mean It
, produced by E. Michael Brydalski, was released. The B-side included a guest appearance by
Gurf Morlix
, producer and guitar player for Lucinda Williams. It was this session that spawned the idea for a full length CD with Morlix producing and Brydalski assisting.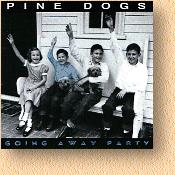 1992 yielded the Pine Dogs third release and debut CD
Going Away Party
. The album was recorded and mixed in 3 weeks and contained some new material and the best of their earlier songs.
Going Away Party
charted on college radio staions across the country an has made its way from New Zealand to Sweden. Through 1993 and 1994 the Pine Dogs toured the region supporting
Going Away Party
and touched down in clubs all over New York, Pennsylvania, Ohio, and Ontario Canada.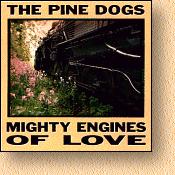 In January 1995, guitarist Don Vincent announced his departure from the band. The remaining members completed the album
Mighty Engines of Love
which was released in October 1995.
Over the years the band has enjoyed sharing the stage with the likes of the
10,000 Maniacs
,
Jeff Healy
,
Lucinda Williams
,
Peter Case
and
Crash Test Dummies
.
The five original Pine Dogs have performed together at a number of special events and benefits in recent years, to enthusiastic response from fans old and new. Their rare live shows are not to be missed!
---
Awards
Some honors bestowed upon the band include:
Best New Band
- WBNY Buffalo,NY 1989
Best Female Vocalist
- Buffalo Music Awards 1989, 1990, 1992
Best Local Album
- Buffalo News 1992
Outstanding Vocalist
-
ARTVOICE
Buffalo, NY 1993
Outstanding Band
-
ARTVOICE
Buffalo, NY 1994
---
Reviews
Produced by
Gurf Morlix
Das Kapital Records
PO Box 564
Buffalo, NY 14225
All songs © 1991 & 1992, Stoneyfell Music ASCAP. All rights reserved
Reflex - Alternative Music and Culture
by
John Hathaway
- © Reflex magazine - January 19, 1993
The third indie release from Buffalo's
Pine Dogs
is a pretty solid collection of pop-rock tunes occasionally graced by a bit of countrified flavor. Musically, they're a little right of the Reivers, sharing some of that band's melodic qualities. The male-female harmonies work well on songs like
All Fine & Good
but most of the vocals are handled by the guys. Too bad.
Gretchen Schulz
sings in a rich, bluesy voice that soulfully elevates their sound. Produced by
Gulf Morlix
(of
Lucinda Williams
fame), this adeptly captures a band with great promise.
Dirty Linen - Folk, Electric Folk, Traditional & World Music
by
PG
- © Dirty Linen magazine - February/March, 1993
This is the third release by this Buffalo-based quintet, a 12-song disc produced by
Gulf Morlix
, who also produces and plays with
Lucinda Williams
. The instrumentation is straightforward, with a solid rhythm section, tasteful guitars and upfront vocals, and owes a lot to folks like
The Everlys, The Byrds,
and other groups from that era. I also hear kinship in their sound with bands like
The Bodeans
and
The Clash
. While they have an undeniable talent for putting together catchy tunes, on two or three songs the hook becomes something of a cliche. Sometimes the longer format of the CD works against artists in that an extra song or two goes on that might not have made the cut for an LP or cassette. The best and most original song is
Gateway Industrial Park
, with other standouts being
Moving Pictures
,
Torn Again
,
Going Away Party
, and
Whiskey Voice
. This is a well done collection from a band that shows a lot of promise. Plus, there's a bonus corn chili recipe printed on the insert.
---
Produced by the Pine Dogs and Bob Hobler
Das Kapital Records
PO Box 564
Buffalo, New York 14225
All songs © and ® 1995 Moose Blast Music (ASCAP) and Das Kapital Records. All rights reserved
Metro Weekend Magazine, Buffalo, NY
by
Jeff Miers
- October 12, 1995
With Mighty Engines of Love, their first release since 1992's Going Away Party, the Pine Dogs prove themselves to be a band of considerable talent and songwriting ability. The album's twelve tracks are a testament to this collection of high caliber musicians and their ability to meld country,rock, blues and pop into one cohesive and passionate whole. Formed in 1987, The Pine Dogs have received just about every award available in Buffalo, from "outstanding vocalist" (1989,1991, 1992), to "outstanding Band" (1994), and their long awaited new album solidifies their position as one of the true treasures of Western New York.
Recorded in several locations, from Kenmore to Toronto, over the past year. Mighty Engines of Love is a finely crafted collection of passionate and intelligent blues-and-country-based pop. with a refreshingly clean mix and a certain timeless quality which winds its' way through the entire proceedings.
Guitarist Jim Whitford is the nucleus of the band's sound; his sparse and subtle blend of country hot licks and blues-rock noodlings calls to mind the best work of David Lindley and Ry Cooder on such tunes as Good Luck, Money and Gasoline and Been on a Twister. Vocalist Gretchen Schulz adds a throaty and passionate edge to the proceedings, and at times calls to mind k.d. lang or Patsy Cline with her sultry and virtuosi musings. She shines particularly on the beautiful ballad "Right Now," a John Hiatt'ish Jim Whitfurd original with a buoyant edge and an unforgettble chorus. All twelve tracks on Mighty Engines of Love are centered around strong chorus hooks and compelling arrangements: Quite simply, there isn't a weak track on the album.
Standout tracks include album opener Everybody Looks So Down, the radio friendly pop gem Stop and Start Over, the Gretchen Schulz-penned country ballad Marlboro Man, and the beautiful Inspire Me. Whitford's lead vocal on Good Luck, Money and Gasoline carries the tune along with a delightfully country-rock edge, and adds weight to the beefy blues- based riff that is the songs' signature. Bassist Tom Fischer's Bad Penny offers a sweet forum for another inspired performancefrom Gretchen Schulz, as does her own ode to motherhood, I Promise. The rhythm section of drummer Jim Celeste and bassist Tom Fischer is solid throughout, providing a subtle and consistent foundation for Whitford's six string weavings and spacious arrangements. They particularly shine on the instrumental Been on a Twister, which somehow melds surf, country andblues into a cohesive whole. The Pine Dogs prove themselves to be a treasure chest of songwriting smarts, top-notch musicianship and damn fine arrangements on their second CD. From start to finish, Mighty Engines of Love is a winner, one of the most seamless collections of fine tunes to come down the turnpike in years. It earns a perfect rating of four stars.
Artvoice, Buffalo, NY
by
Dale Anderson
They say every dog has its day. For the Pine Dogs, that day is long overdue.
By rights, it should have come two or three years ago, around the time they put out their first album, Going Away Party. There they defined themselves as a rock band with wit, wisdom, some hot guitars and a first-rate vocalist in the person of Gretchen Schulz.
The intervening days and months have seen the Pine Dogs shrink from a quintet to aquartet with the departure of Don Vincent,who did a bit of everything -- singing, guitar-playing, songwriting. But it hasn't diminished them a bit, judging from their new album, Mighty Engines of Love, which gets its formal introduction to the public Saturday,Oct. 14, at Nietzsche's, 248 Allen St.
Like its predecessor, Mighty Engines of Love draws from the band's several songwriting talents.Bassist Tom Fischer, for instance, contributes a charming story-song, "Bad Penny," in which a child given up for adoption is reclaimed when its natural parents have a change of heart.As for the rest of the writing. it's split between Schulz and guitarist Jim Whitford, with eight of the 12 tracks authored by Whitford. His emphatic opening track, "Everybody Looks So Down," a perfect rallying song for resisting the slide into winter, is absolutely rebellious in its determination to rage against the dying of delight. "I'm gonna go out tonight," Schulz and Whitford sing in harmony, see if I can't cheer up the world."
Whitford often uses his songs to joust with his personal demons. "Murky" looks out from loneliness and vows to escape. "Stop & Start Over" resolves to open a stubbornly closed heart.Sometimes he's victorious, like in "Ton of Bricks," where joy is incipient ("Baby, you're a poem waiting to happen") and everything is wrapped up in yearning.
Schulz's songs. with their gentleness, their sense of reassurance and their change of pace, provide just the right counterpoint to Whitford.
Her first entry Marlboro Man, is a whimsical interlude that's pure fantasy with a nicotine kick."Every time I smoke a cigarette," she concludes,"he's making love to me." A subsequent number,the parental pledge in waltz-time "I Promise," revisits a country music verity ("Three things you can count on/Your fingers, your daddy and me").
Whitford builds a few changes of his own into the set. The born-under-a-bad-sign strains of "Good Luck, Money & Gasoline," abetted by Joe Mancuso on harmonica, puts hard-driving blues into a song about the liberating effects of lonely country roads. Then there's "Been on a Twister,"an invigorating instrumental excursion into the reverberating world of surf-rock.
It's the blues and Whitford's blues-based guitar figures that give Mighty' Engines of Love a force and a focus above and beyond the previous Pine Dogs' release. There are glorious guitar passagesall over the album -- "Stop & Start Over" shimmers with lingering chords and finishes with a haunting minute-long solo, "Naked Truth" pulses with twangy Duane Eddy muscle, and "Inspire Me" builds on piston-driven power chords. This could well be the payoff from the band's new,more leisurely recording regimen -- going into the studio after laying down some of the tracks at home.
A stronger sense of the blues also plays better into the Pine Dogs' greatest strength. Schulz's stunning alto. On low flame, she's as dusky and intimate as Fleetwood Mac's Christine McVie. But McVie never breaks into a boil. Let Schulz turn up the heat, like she does in "Inspire Me." and the crockery starts shaking. Happily, she gets plenty ofopportunities to raise the temperature all the way through.
---